Innovative Life-Saving Procedure to Treat Brain Aneurysms
In 1991, Mary Zhang left a life as a dressmaker in Shanghai, China, for a better future closer to her son in the United States. That decision might have done more than keep her family close. It ultimately saved her life by placing her in the hands of a skilled neurosurgeon nearly 20 years later.
In 2010, during an MRI for a concussion she suffered after a fall, doctors discovered a brain aneurysm near the artery of her left eye. Zhang was referred to Dr. Vallabh Janardhan, Director of the Texas Stroke Institute at The Medical Center of Plano, for evaluation and treatment.
While there are no known causes of brain aneurysms, cigarette smoking and uncontrolled high blood pressure are risk factors. Aneurysms can also be familial, meaning if someone has two first-degree family members who have had an aneurysm, they also have an increased risk.
"There is a minimally invasive way to screen for an aneurysm," explains Vallabh Janardhan, MD, "An MR-Angiogram is conducted with 3-D time of flight imaging meaning no IV or contrast is required. The imaging does not take long, so if you have an increased risk of aneurysm, getting screened can give you peace of mind and even save your life."
Together, Dr. Janardhan and Zhang decided to wait and watch the aneurysm. After five years of monitoring, an MRI revealed the aneurysm had grown substantially larger and was potentially life-threatening.
Zhang was presented with a serious decision: traditional open brain surgery or a new and less-invasive procedure FDA approved in 2015.
Traditional aneurysm surgery involves open brain surgery to place a clip across the mouth of the aneurysm. But, Dr. Janardhan recommended The Pipeline™ Flex procedure which involves threading a device to the brain from a vessel in the groin. A cylindrical mesh device placed across the aneurysm neck then diverts the blood flow away from the aneurysm, also allowing for easier reconstruction and healing.
Zhang spent months learning everything she could about it and even considered returning to China for traditional open brain surgery. Doctors there advised her to stay in Plano, under Dr. Janardhan's expert care.
"I don't like to push people into making a decision, but rather I prefer giving my patients as much information as I can," says Dr. Janardhan, "So they are able to make an informed, well-thought out decision for themselves."
Zhang credits Dr. Janardhan for being sensitive to the cultural differences between Eastern and Western medicine, for patiently answering questions and for preparing her for the possible risk of losing vision in her left eye.
On January 7, 2016, 69-year old Mary Zhang became the first patient in Collin County, Texas and at The Medical Center of Plano, to undergo the Pipeline™ Flex device for treatment of the brain aneurysm.
"As terrifying as it was to be diagnosed with a brain aneurysm, I feel so lucky that my doctor caught it in time and could offer me this new treatment," says Zhang. "I discussed my options with Dr. Janardhan at length and chose to undergo the Pipeline™ Flex device procedure because of how it can be done without any incision or sutures and I only required a Band-Aid in my groin."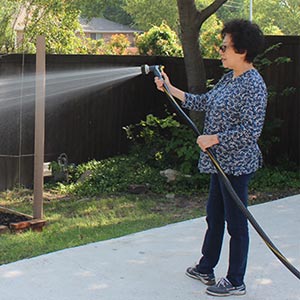 A day after surgery, Zhang was discharged from the hospital, overjoyed that the treatment was a success and that her vision was spared, allowing her to see her family for many years to come.